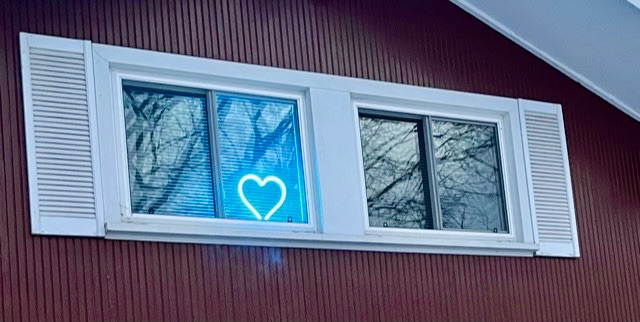 When the COVID virus hit our city and elsewhere with such impact causing so much sickness, fear and death and seclusion as people stayed home from work and school and kept away from socializing, it put the health care people and industry under terrible pressure, and also did so much damage to the many services that connect us with others. It did not take long before people were drawing hearts, the international symbol of love and caring, and putting them in their windows to show their support for others.
Seeing all these handmade hearts in people's windows gave Jeff Moss an idea to put his resources to work. He was a small business entrepreneur, whose company supplied neon lights for the film and entertainment industry and his business was rather quiet during the lockdown. So he set up a production team to build these plug-in neon LED coloured hearts which fit in windows and their sales supported healthcare as well as several other good causes. These hearts made in our area of Ontario are produced in a variety of colours and a portion of each heart sold supports a certain organization. The colour of each heart — red, cyan, green, orange, white, pink, and magenta, rainbow, represents the organization it supports. 
Many home windows in different Toronto neighbourhoods, especially around the Michael Garron Hospital in East York and Leslieville and Riverdale are glowing with these coloured hearts and their message is spreading. You might see one in downtown properties and elsewhere now too.     
The message that shines in the windows is a simple one: that we are thinking about you and wish all people nothing but love and hope for brighter days ahead. It is a glowing symbol with thanks to our healthcare heroes, workers, friends and neighbours and those who are struggling in this new changed world.  
I had seen and admired them in windows around our families' homes in east Toronto and was so pleased when one appeared as our Christmas gift from one of our children's family. 
To read more about about Our Glowing Hearts or to order one for yourself, the website is ourglowinghearts.ca